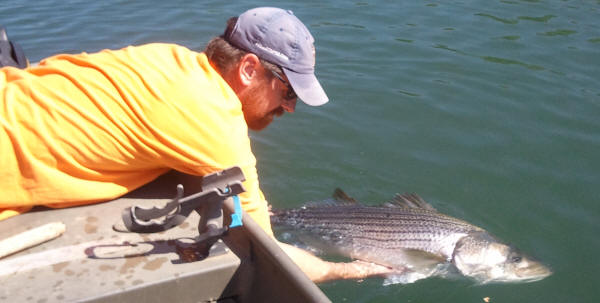 SHAWN "THE CHEF" MCNEW
Owner of Striper Soup Bait & Tackle, is one of the region's foremost striper fisherman.  His first experience with this magnificent fish in 1993 was the end of his lifelong (at the time) love of bass fishing. Shawn recalls the story of his first striper trip on the Tennessee River, "I latched into two of these beasts, and they both broke my 20 lb test after 2-3 minutes of straight drag pulling!  I'd never felt power like that and knew I was 100% hooked."  After a successful
career as an All American Division I swimmer and graduating with a degree in wildlife fisheries science from the University of Tennessee, he focused 100% of his resources to learning the ways of striped bass fishing.  In 1998, he started his guide service, Seein' Stripes, and is still guiding today.  In 2007, Shawn utilized his knowledge of catching and transporting shad to begin a commercial shad company named Shad Stocking.  His knowledge of the fishery is regarded by his peers, and he is excited about sharing it with aspiring striper fishermen.
---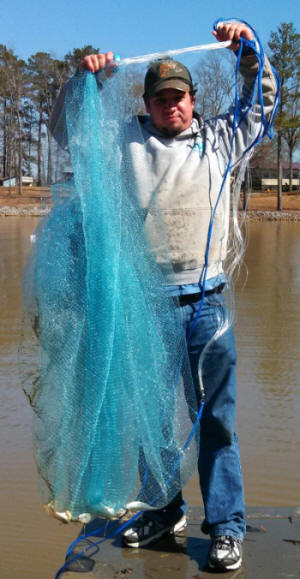 MIKE "THE MATHEMATICIAN" TYLER
Manager of the 'Soup, has a newly developed passion for fishing.  His friendliness, helpfulness, and skillful mastery of Striper Soup Bait & Tackle product development and manufacturing are a critical asset to the success of our operation. Mike will do what it takes to help customers feel at ease and select the right set of fishing options for their preferences.
---
CHRIS "TEXAS" WINGARD
Has teamed up with Shawn and Mike to help keep the Soup hot and tasty.  He is well versed in bait tank technology, shad keeping and hauling, and is a master catfisherman.  Always friendly and helpful, Chris will load your tank with
frisky Striper Soup shad and keep you entertained with his nearly unintelligible Texas accent!