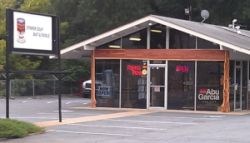 It's not every day you get the opportunity to live your dream. Striper Soup Bait & Tackle staff members have been blessed to do just this. Our lifelong dedication to fishing has brought us to Acworth to share our passion with our fellow anglers. Unparalleled service, quality products, low pricing, and frisky live shad coupled with the knowledgeable staff at our store will make striper fishing simple. We are excited to become part of the local community and look forward to building many personal and business relationships through the striper industry.
Striper Soup Bait & Tackle was founded with the striper fisherman in mind. Our mission is to carry a specific array of intelligently packaged and priced tackle that is oriented 100% towards striped bass angling. Many of our products are designed, made and packaged in-house. We are on the forefront of striper product innovation and constantly seek to improve our tackle and gear.
You will be able to fully outfit your rig, pick up a couple dozen shad, round up all the tackle you need AND get the latest report from a reliable source on your way to your stripery destinations. The store is a stand-alone brick building with a large glass front and a large parking area boasting drive-around access ample enough for large striper rigs. Anybody and everybody is invited to come on by and see what we've got brewing in this pot of Soup!
The Striper Soup forum, founded on Dec 22, 2005, maintains our up-to-the-minute interaction with some of the most experienced and informative striper fishermen in the world. Many striper anglers have honed their skills and made lasting friendships through this invaluable network. Striper Soup Bait & Tackle Members receive discounts on most merchandise in the store! CHECK OUT THE 'SOUP, get plugged in, and add your own spice!